Question
How are the network settings configured for the first time I use Edge Gateway?
Answer
The factory settings are configured as follows.
eth0
br0
IP address: 192.168.1.254/24 * LAN0-3 (4-port switch)
The initial settings of the IP address on the eth0 side have been fixed to the DHCP client. Configure the settings suitable for the networks such as ONU (Optical Network Unit) on the Internet side.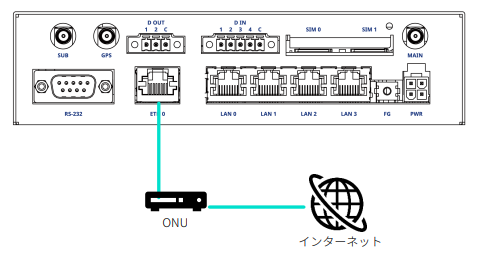 Initial configuration example
In the following example, the IP address of Interface br0 is changed to 192.168.2.2 and a network camera is connected to LAN0-3 and is being used.
As shown in the figure below, a mobile connection and a WAN connection can be set at the same time. However, it is necessary to set the order of priority for the connections.
For the detailed setting method, refer to the "CLI ユーザーズマニュアル". (Japanse)